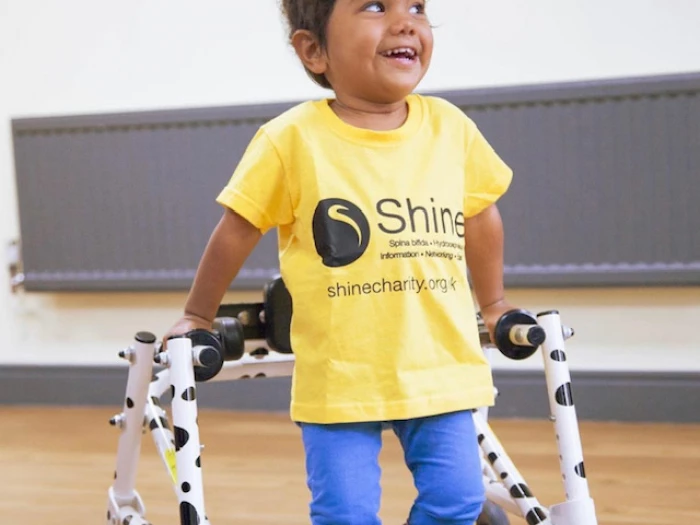 Lorna has been truly honoured to be asked to work in collaboration with  SHINE UK  in offering advice and support to their families.
SHINE UK is a truly amazing charity providing specialist support for people with Spina Bifida and Hydrocephalus across England, Wales and Northern Ireland.  
Spina Bifida  is a fault in the development of the spinal cord and surrounding vertebrae leaving a gap or split in the spine.  The spinal cord often does not form properly or maybe damaged and the effects of this can vary greatly.  Some people with Spina Bifida will walk and some will be full time wheelchair users, many also suffer difficulties with bladder and bowel control as well as loss of skin sensation.
Hydrocephalus  is one of the conditions often related to Spina Bifida.  This means water on the brain and is a build up of cerebrospinal fluid  leading to increased pressure on the brain tissue.  Hydrocephalus must be treated and is usually done so by a small thin tube (a shunt) being surgically implanted into the brain to drain the excess fluid.
Lorna has taken part in two face book live sessions over the last few weeks and is due to run a third session on Monday 10th December at 10am on the  SHINE UK facebook page.   
The sessions have covered 3 very different subjects trying to help as many people as possible at what has been a really tricky time for many.  
Session 1 looked at 'Developmental Building Blocks' and discussed what is important when encouraging your child to get ready for walking.
Session 2 talked all things DMS! Dynamic Movement Skills is an awesome training methodology developed by  The Movement and Running School.   It is simply amazing at helping everyone not just move more but move better.
Session 3 is going to focus on 'Looking After Yourself So You Can Look After Others!'  Taking the time to learn a little self care is a skill important for us all but is especially important to the parents and carers of children with additional needs.
So grab a brew, sit back and enjoy catching up on the sessions!  Spread the word so more people can tune in on Monday 10th at 10am!
See you there!